Schlage AD-250-CY - User Rights on Card - Cylindrical Locks with Magnetic Stripe (Swipe) + Keypad
AD Series electronic locks from Schlage are designed to be modular and provide more options to choose from, more functionality in the lock and more compatibility with existing systems. Its patent-pending modular design allows the lock to be customized to fit the needs of an application now, and can change to meet future needs without removing it from the door. Factory orderable options include choices of magnetic stripe credential readers, chassis type, locking functions, power options, lever styles and finishes. It also offers a wide selection of features that can be configured in the field to customize your openings.
The AD-250 is a unique solution in which the credential, not the lock, carries access rights on a magnetic stripe card. This allows dynamic rights management on the card without reprogramming each lock in the facility. And the lock still maintains an audit trail of events at the door. This makes it a smart and economical solution for campus-like environments with a large number of users and offline openings. On all AD Series standalone locks, Schlage has built in many of the incremental features needed in a networked system such as request-to-exit and request-to-enter sensors, interior cover tamper guard, as well as the door position switch. This way, if the customer chooses to network this opening in the future, all the components will be there to make the transition an easy one.
SCHLAGE AD-250-CY-MSK - FEATURES
Security that's more intelligent and convenient than traditional mechanical locking devices

Audit trail reports that allow you to track usage

Update users and access rights using credentials instead of having to visit each lock

The ability to upgrade to a networked solution without removing the lock from the door

Available in cylindrical, mortise, mortise deadbolt and exit trim

Compatible with major brands of master key systems and exit devices

ANSI/BHMA A156.25, ANSI/BHMA Grade 1, UL 294, UL 10C, FCC Part 15, ADA, RoHS
AD-250 ELECTRONIC LOCK SPECIFICATIONS
Users: Unlimited, dependent on software

Audits: Up to 10,000

Credential verification time: = 1 second

Visual/audible communications: Tri-colored LEDs and audible indicators (field configurable)

System interface: Handheld Device (HHD)

Power supply: 4AA, 8AA, 12 VDC or 24 VDC

Voltage range: 4 VDC to 26 VDC

Max current requirement: Up to 250 mA

Battery life: Up to 2 yrs with 4AA

Operating temperature - exterior: -31° to 151°F (-35° to 66°C)

Operating temperature - interior: 32° to 120°F (0° to 49°C) (battery)

Operating humidity: 0 - 100% non-condensing

Certifications: ANSI/BHMA A156.25, ANSI/BHMA Grade 1, UL 294, U L10C, FCC Part 15, ADA, RoHS

Accessories: Handheld Device (HHD), magnetic stripe credential encoder (CL-Encoder 2)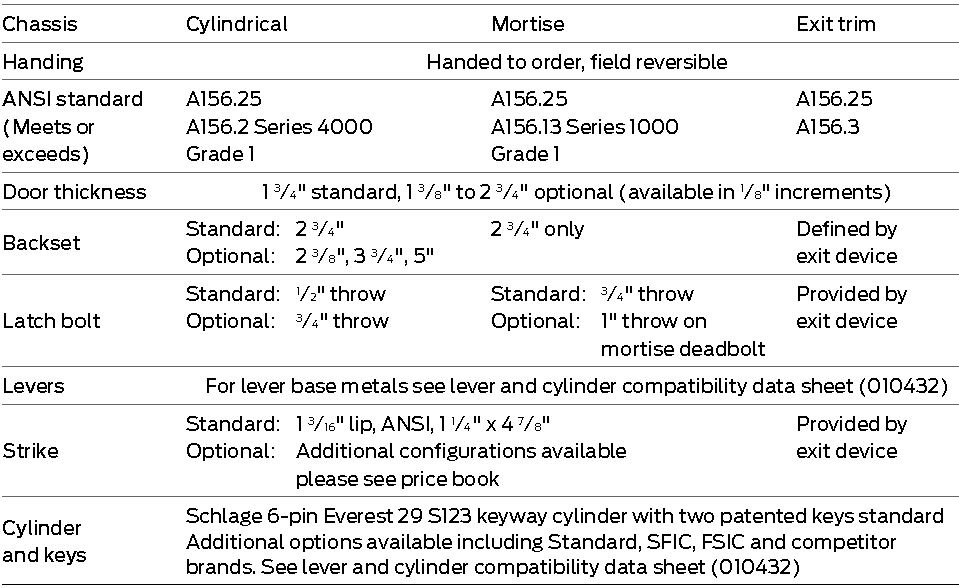 SCHLAGE AD-250-CY-MSK - FINISHES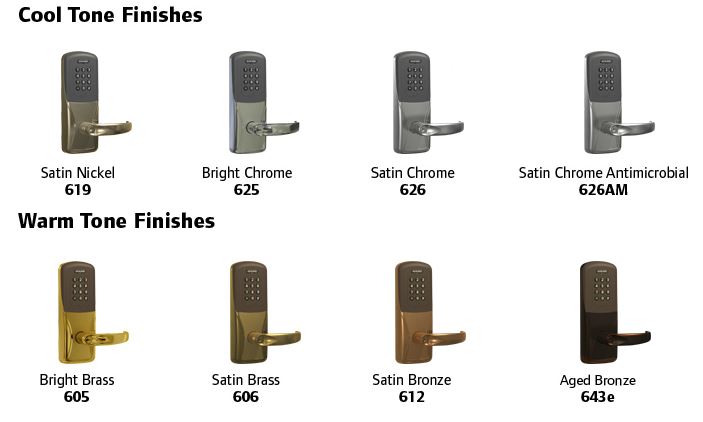 SCHLAGE AD-250-CY-MSK - LEVER OPTIONS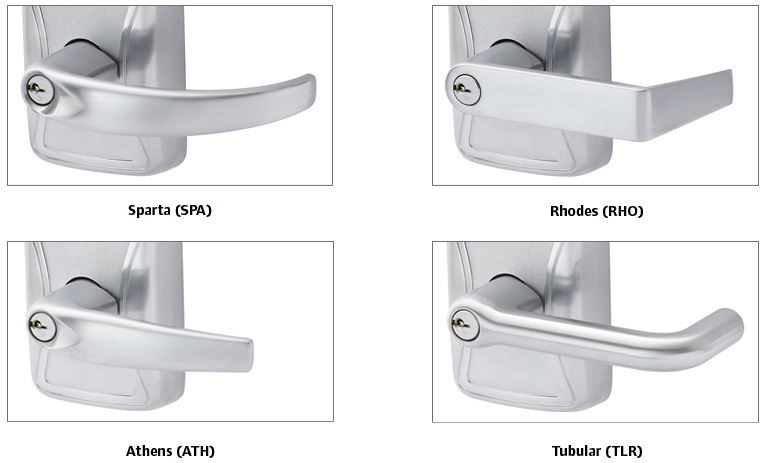 SCHLAGE AD-250-CY-MSK - ADDITIONAL INFO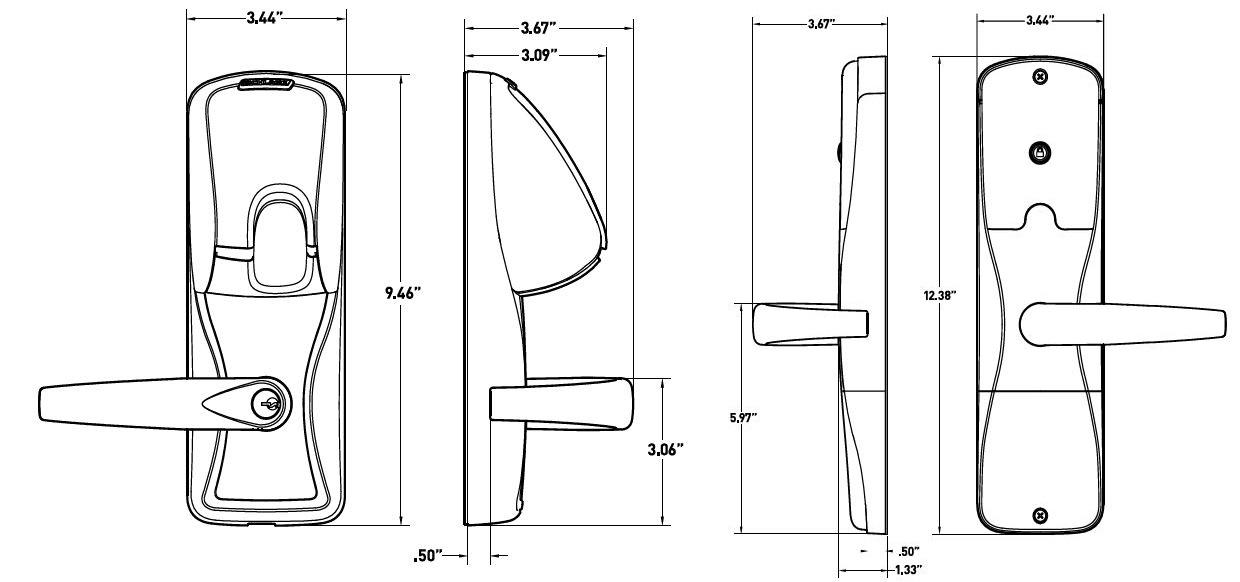 SCHLAGE AD-250-CY-MSK - DOWNLOADS
SCHLAGE AD-250 SERIES - USER RIGHTS ON CARD - DOCUMENTATION FILES