Adams Rite 2190 - Dual Force® Interconnected Deadbolt / Deadlatch for Aluminum Stile Doors - With 03 Lever

The Dual Force® 2190 Interconnected Deadbolt/Deadlatch provides access control and security for aluminum stile doors. Latch and deadbolt capabilities are combined for fast, easy, and panic-proof exiting.
The Dual Force 2190 combines the access control capabilities of a latch with the security of a deadbolt. The key retracts and extends the deadbolt (and deadlatch) from either side. The exterior lever retracts the latch only, while the inside lever retracts the deadbolt and latch simultaneously for fast, easy, panic-proof exiting. Intended for out-swinging doors.
Key or thumbturn retracts or extends deadbolt or deadlatch. Inside lever retracts both when configured with interconnect feature. Outside lever retracts latch only. Latch holdback feature activated or deactivated by turning key to retract latch and sliding holdback button on faceplate down to hold and up to release.
Inter-Connection: Field-selectable inter-connection feature allows interior trim to retract deadbolt and deadlatch. Consult local building officials for guidance in code compliance. Retrofits to existing MS1850S Deadbolt or 4500 and 4900 Deadlatch of the same backset. 1-3/4" minimum door thickness required.
Cylinder Basket: 1-1/8" or 1-1/2" only.
Latchbolt/Deadbolt: Latchbolt: 5/8" throw, solid brass. Easily reversible using only a screwdriver. Deadbolt: 1" throw, stainless steel.
Auxiliary Deadlatch Pin: Stainless steel. Deadlocks latch bolt to prevent "loiding" or case-knife entry.
Faceplates: Measures 1" x 6-7/8". Include FaceStyle faceplate system that adapts to flat, radius, or beveled door edge. Radius with weatherseal faceplate available separately.
Strikes: Standard strike furnished is the 2101-01 for flat jamb where door closes flush or nearly flush. The 2101 covers MS® Deadlock strike preparation with modification, and the 4901 Deadlatch strike directly. Also available in radius version for opposite stile pairs of doors and with extended lip strikes for special jamb conditions.
Cylinder Cam: The Dual Force 2190 is operable by any standard 1-5/32" diameter mortise cylinder with MS® cam. Cylinders with MS® cams can be readily obtained from most cylinder manufacturers.
Options: Specify trim option, lever style, finish, and strike. Also adapts to paddle operator 4591. See 2290 for wood or steel door version for stile and rail type door construction. Note that the low profile trim (trim option 3) is recommended for in- swing door applications. Please refer to 3080 (TRIM) for full offering of designer handle sets.
Electrified Trim Options: Order 2190 Electrification Kit EK-2190 for adding to the clutched exterior lever. Dual voltage 12/24 VDC rated for continuous duty operation. Energizing the lever allows exterior lever to be turned to retract latch only. The electrified option is not available for low profile trim (trim option 3).
Standard Package: Individually boxed with trim as specified, strike and machine screws for mounting. Cylinders available separately. Shipping weight: 2 lbs.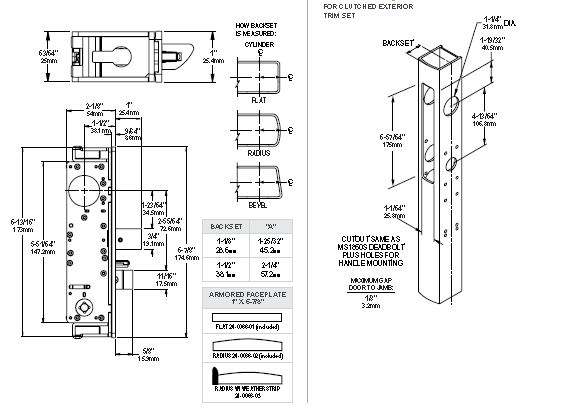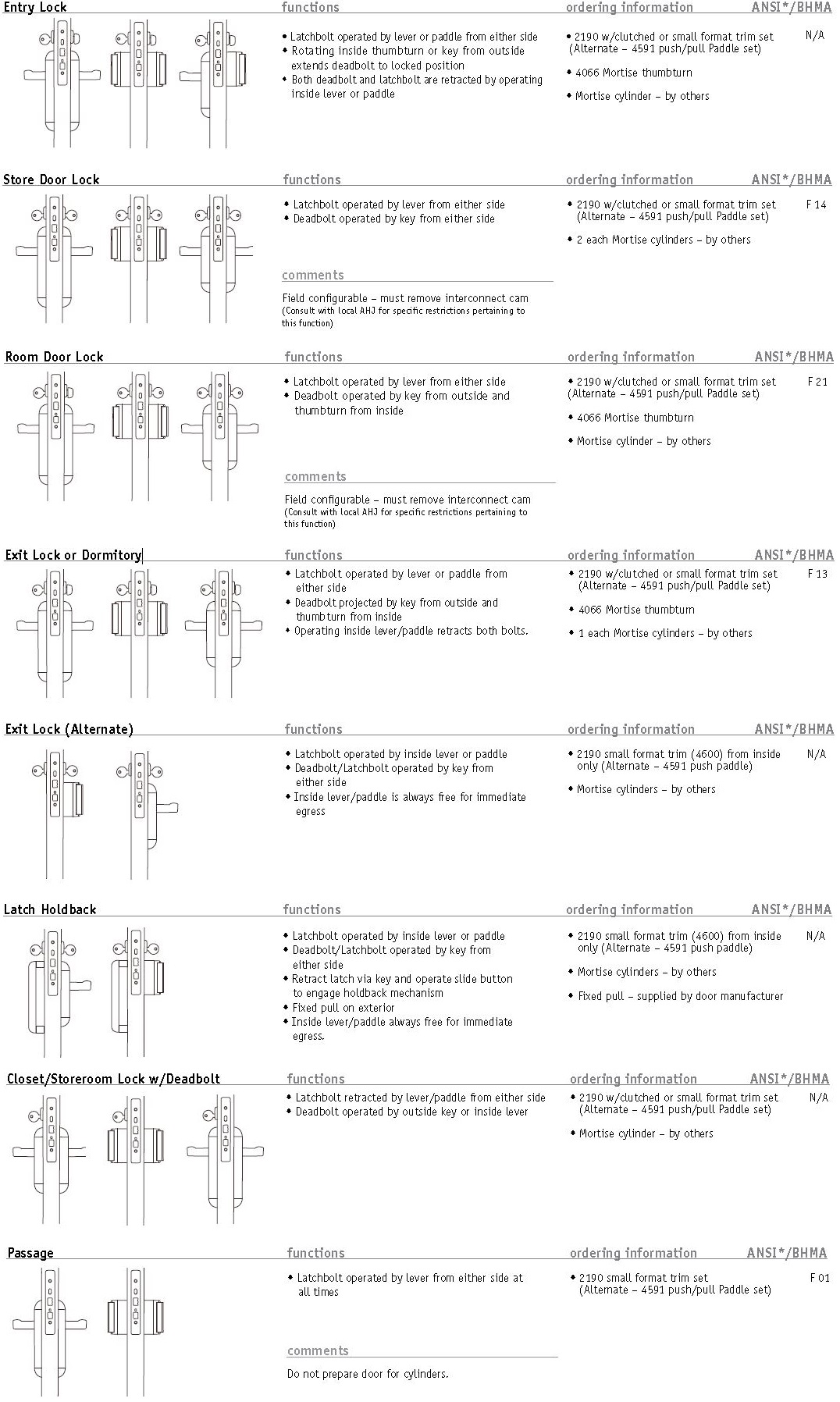 Click here to download 2190 Catalog
Click here to download 2190 Installation Instruction - Click here to download 2190 Trim Functions
Click here to download Price List