Alarm Lock Trilogy PDL3075 - ELECTRONIC DIGITAL PROXIMITY LOCKS - Standard Key Override with Regal Curved Lever
Buy the Alarm Lock Trilogy PDL3075 - Electronic Digital Proximity Locks with Standard Key Override and Regal Curved Lever at discounted prices from Locksandsafes.com.
The lock has a built in HID Prox reader which allows entry with HID prox ID cards and keyfob credentials. The lock supports virtually all HID cards and HID fob credential formats. Alternatively, users can be assigned codes, which they can enter on the keypad at the lock, to gain access. For the highest security, it is advisable that users be assigned both cards and codes to be given access.
The lock is weatherproof and can be installed for both indoor and outdoor use. The keypad is weatherproof, all metal, 12 button programmable for multi-level access functions. The proximity antenna is housed in an ultra high strength Lexan. The lock has a long battery life, with 5 AA batteries which easily works for 60,000 cycles and is equipped with an audible and visual low battery indicator.
Finishes - The PDL3075 comes in US26D Satin Chrome Finish. Other finishes including polished brass and Duronodic are available upon request.
Use the same ID cards as hardwired access systems & install in about an hour

Save all the downtime and 1/2 the cost of hardwired systems

Provide access for up to 2000 users, with prox ID-cards or 3 to 6 digit codes including: Master, manager, supervisor and basic user. Users are individually programmed to use a card only, code only, or, for the highest security, both card and code.

Built-in HID Prox reader for entry with HID prox ID cards and keyfob credentials

Grade 1 BHMA Certified durability and rugged clutch mechanism ensure long dependable life

Weatherproof performance for indoor and outdoor applications, wide operating temperature range of -31°F to +151°F (-35°C to +66°C)

Electronic master key system with access customized to each user's hours - Give each user access to common areas and/or their individual area(s) and do so defined by the actual times they are permitted entry there.

Codes are fingertip programmable -or- downloadable via PC (with Free Windowsbased Alarm Lock Trilogy Software) or using optional Data Transfer Module

ID Cards can be simply added locally by individually tapping them on the lock face -or- added in multiples in batch-enrollment with PC or optional Enroller Module

Easy to install in about an hour retrofits most cylindrical locksets and cleanly retrofits mechanical digital locks' prep.

Ideal ID-card access system solution, one door at a time - especially when hardwire access system capacity, timelines or budgets run out.

500 scheduled events save manpower. Program events such as automatic locking or unlocking by daily, weekly or holiday schedule, etc. Includes 4 quick schedules for one-step set up of the 4 most common time schedules

Real time clock allows logging of events to within 1 second accuracy

Up to 40,000 event audit trail with time/date stamp for a printable record of door access activity by user

Adjustable entry time allowance from 3-15 seconds

Greater security with "temporary keypad lockout" after 6 unsuccessful code-entry attempts (adjustable from 1-9 attempts) - Attempts are also logged by time and date

Programmable relays energize when one or more selected events occur, e.g., in concert with a receptionist buzz-in application or with video cameras

Long-life battery operated; uses 5 off-the-shelf AA batteries; 60,000 cycles, typical. Audible and visual low-battery alert.

Standard key override or interchangeable core models accepting 6 or 7 pin cores from Arrow, Best, Falcon or KSP. Other IC core preps available

Available in regal (curved) lever

Seven finishes; polished brass (US3), satin brass (US4), antique brass (US5), polished chrome (US26), satin chrome (US26D), satin bronze (US10) and duronodic (US 10B).
Authorized digital code or prox technology ID allows lever to retract latch. Inside lever is always in passage mode and permits instant egress.
KEYPAD: Weatherproof, all metal, 12-button programmable for multi-level access functions. Proximity antenna housing molded of ultra high strength, impact resistant Lexan®.
HID Proximity Reader: Built-in, weather-sealed HID reader supports virtually all HID cards and HID fob credential formats.
DOOR THICKNESS: 1 5/8" to 1 7/8" standard. For 1 3/8" doors use HW567 & HW569 spacers. For other other thicknesses, please consult factory.
BACKSET: 2 3/4" Standard. 2 3/8" backset also available.
AUDIT TRAIL: Lock's activity log can be extracted by using the AL-DTMIII (data transfer module), the AL-PCI2 (PC interface) and/or can be on-site printed using the AL-IR1 (hand-held infrared printer)
STRIKE: 1-1/8" x 2-3/4" T strike standard. With screws for wood or metal jambs. 1 1/4" x 4 7/8". ASA strike also included.
FINISHES: US3 polished brass, US26D satin chrome, US10B durondic.
Click here to see our Definitive List of Door Hardware Finishes
DOOR PREP: Standard ANSI A115 Series Prep, modified by adding additional through-bolt holes.
COMPLIANCES: BHMA Certified Grade I, heavy duty cylindrical lockset, UL listed to the 10C Positive Pressure Specification. Latchbolt is UL listed and 3-hour fire rated, FCC certified. ADA compliant levers.
STANDARD KEY OVERRIDE CYLINDER: Solid brass 6 pin tumbler cylinder keyed 5, SCI keyway, furnished in all K.O. models. Tailpieces for Schlage (HW580) & Lori (HW620) cylinders (furnished).
INTERCHANGEABLE CORE MODELS: Accepts 6 & 7 Pin Cylinders from: Best, Arrow, KSP, Falcon and Kaba Peaks. Also available IC Core models for Yale, Medeco, Corbin/Russwin, Sargent and Schlage (Schlage IC available only with regal (curved) handle). Alarm Lock tailpiece is supplied; IC Core is not included.
POWER: 5AA alkaline batteries, supplied. Audible low battery alert, visual and audible entry indicators, 60,000 cycles typical.
PROGRAMMING: Locking modes, event schedules, group, individual, master, management, passage, emergency service codes. Lockout, remote override capability, and allowable entry time (3, 10 or 15 seconds), are programmable through the keypad, AL-DTMIIII or Alarm Lock's DL-Windows PC Software.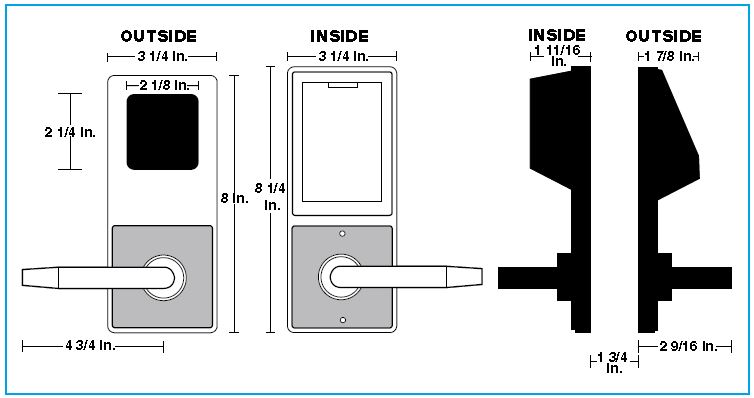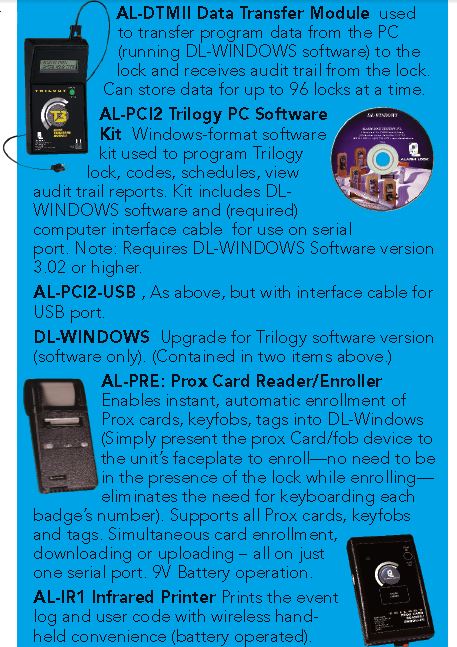 Alarm Lock Trilogy PDL3000 Series Documentation