Alarm Lock Trilogy PDL4100 - STANDALONE ELECTRONIC DIGITAL PROXIMITY LOCKS WITH PRIVACY & RESIDENCY FEATURES
Buy the Alarm Lock PDL4100 Electronic Pushbutton Lock with Privacy and Residency Features. The PDL4100 is available in two models, the PDL4100 Standard Key Override and PDL4100IC Interchangeable Core. Now get keyless entry to a restricted area with the Alarm Lock PDL4100 lock. Use a prox ID, a keyfob or enter a pin to unlock the door. For highest security, use both card and code to unlock the door.
With the Privacy feature of the lock, debar access to everyone with the push of a button on the back of the lock, i.e. the inner side of the door until the user exits the room. A red LED flashes on the outer keypad side, indicating that the door is locked and the room is occupied.
Allow access to everyone with activation of Residency feature. Necessary when chances of accidental lockouts are a matter of concern. Activate the residency feature at the lock itself and ensure that when a user exits, the lock remains unlocked. The lock will lock only when it is physically relocked, with either a Prox ID or keyfob or PIN.
Use the Trilogy PDL4100 standalone electronic access control privacy lock in locations such as:
• Single-occupancy restrooms
• Dressing rooms
• Darkrooms
• Hospital on-call/sleeping rooms
• Executive offices
• Confidential file rooms
• And more
About Alarm Lock
The PDL4100 has been designed and manufactured by Alarm Lock Systems, LLC, a respected leader in the design and manufacture of commercial door technology solutions, including both standalone electronic access control solutions and wirelessly networked access control solution. Alarm Lock's solutions are ideal for education, healthcare, government, airports, corporations and mixed-use environments.
Field-proven, standalone rugged keyless locks with vandal-proof, allmetal keypad - No wiring; long-life battery operation. (Key override with IC core option.)

"Privacy" feature ideal for bathrooms, dressing rooms, etc. With the push of a button on the back of the lock (inner door), the lock cannot be opened from the front entry side.

LED indicator on front of the door will flash while privacy feature is active. Tri-colored LED indicator also shows code acceptance or denial (green or red, respectively), or low battery condition (yellow).

Programmable "Residency" feature allows users to close the door behind them and have the lock remain unlocked until it is physically relocked with PIN or Prox device.

Users are individually programmed to use a PIN or card only (PDLprox models), or for the highest security - both card and code.

2000 3 to 6 digit user codes: Master; manager; supervisor; basic users. (PDL-Prox models support up to 2000 Prox. ID cards/fobs or codes.) One-time service codes. Total user lockout code. Keypad lockout after numerous attempts to "guess" codes.

Weatherproof for use inside and out even in weather extremes from -31 degrees below to 151 degrees F on both sides of the door.

Fingertip (keypad) or Windows PC-programmable

Scheduled Events: Real time clock enables up to 500 scheduled events and holiday schedules. Program to lock/unlock; disable/ enable users; 4 built-in time schedules

Audit Trail with Time/Date Stamp Log: Up to 40,000 event Audit Trail with printed time/date-stamped log of all electronic activity can be reported from the lock including user entry, unlock/lock events, program mode changes, user entry, keypad lockout, remote release events, unauthorized code attempts, etc., by using the AL-IR1 (infrared printer), the AL-DTM (data transfer module) or PCI2 (PC interface). Program data transferred to lock via AL-PCII (PC interface) or (AL-DTMII data transfer module).

"First-Manager-in" controls three (3) different features: Passage mode, group of users and relay options

Non-volatile memory of both programming and audit trail activity

Iconic bilingual Privacy and Residency Instructional Signs supplied with lock For use on inside door to give operational use, in English and Spanish language. (shown on cover)
Authorized digital code allows lever to retract latch. Inside lever is always in passage mode and permits instant egress.
Operating Temperature: Weatherproof lock with operating range from -31 degrees below to 151 degrees F.
Keypad: Weatherproof, all-metal, 12-button programmable for multi-level access functions. Proximity antenna housing molded of ultra high strength, impact resistant Lexan®.
Programming: Locking modes, event schedules, group or individual user codes, master and management codes, passage and emergency or service code, lockout and remote override capability and allowable entry time (3, 10 or 15 seconds), etc. are programmable through the keypad, the AL-DTM (data transfer module) or Alarm Lock DL – Windows PC Software.
Audit Trail: Lock's activity log can be extracted by using the ALDTM (data transfer module), the AL-PCI (PC interface) and/or can be on-site printed using the AL-IR1 (hand-held infrared printer)
Power: 5AA alkaline batteries, furnished. Audible low battery alert, visual and audible entry indicators; 60,000 cycles, typical.
Door Thickness: 1 5/8" to 1 7/8" standard. For 1 3/8" doors use S6072 spacers. For other thickness', please consult factory.
Backset: 2 3/4" standard. 2 3/8" backset also available.
Door Prep: Standard ANSI A115 Series Prep modified by adding additional through-bolt holes.
Cylinder: Solid brass 6 pin tumbler cylinder keyed 5, SCI keyway, furnished in all K.O. models. Tailpieces for Schlage (HW580) & Lori (HW620) cylinders (furnished). Standard IC core models accept Arrow®, Best®. Falcon®, KSP® and Kaba Peaks® 6 or 7 pin IC core cylinders (not furnished). Alarm Lock tailpiece for use with IC core cylinders is furnished. IC core models prepped for Yale®, Medeco®, Corbin-Russwin®, Sargent® and Schlage® also available.
Strike: 1 1/8" x 2 3/4" T strike standard. With screws for wood or metal jambs. 1 1/4" x 4 7/8". ASA strike also included.
Finishes: US3 polished brass, US26D satin chrome, US10B Durondic.
Click here to see our Definitive List of Door Hardware Finishes
Compliances: Grade I heavy duty cylindrical lockset. UL listed to the 1OC Positive Pressure Specification. Latchbolt is UL listed and 3-hour fire rated. FCC certified. ADA compliant levers.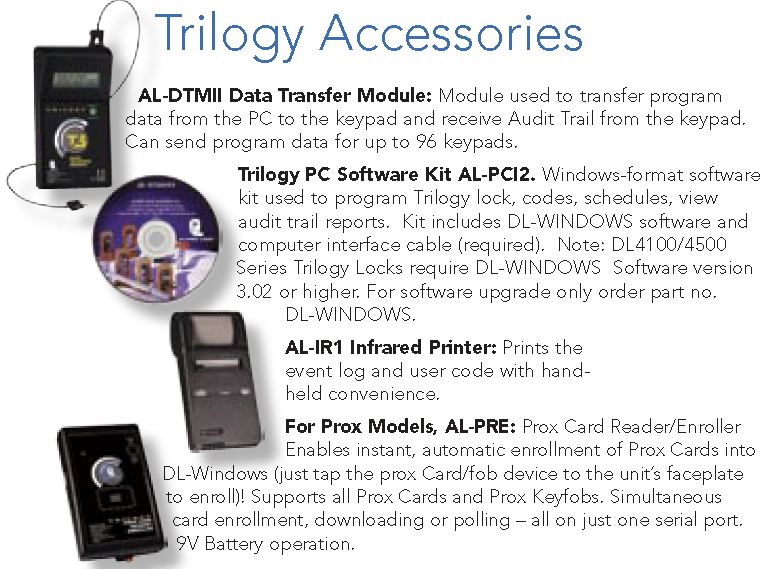 Alarm Lock Trilogy PDL4100 Series Documentation