Schlage S270PD - Interconnected Locks - Double Cylinder - Classroom Lock (Schlage S200 Series)
When it comes to quick, easy egress and dependable security, Schlage S200-Series interconnected locks get the job done. Designed for applications ranging from military housing to multi-family and small hotel/motel buildings, the S200-Series is a lock you can depend on.
SCHLAGE S270PD CYLINDRICAL INTERCONNECTED LOCKS - OVERVIEW
Keyed Double Cylinder function

Classroom lock

Deadbolt operated by key from outside or by turning unit inside

Bolt automatically deadlocks when fully thrown

Outside lever is locked and unlocked by key from the outside

Turn inside lever to simultaneously retract deadbolt and latchbolt for immediate exit

Latch automatically deadlocks when door is closed
SCHLAGE S270PD CYLINDRICAL INTERCONNECTED LOCKS - FEATURES AND BENEFITS
Heat-treated steel locking components for extra strength

Independent heavy-duty lever torsion springs for durability and long life

Non-handed levers for easy field installation

Extra-strong Everest 29™ patented keys standard for commercial applications
Door Handing
All Schlage locks are reversible. Hand information is necessary to ensure proper cylinder orientation in keyed functions, and finish of latchbolt and strike for locks that are to be installed on reverse bevel doors. Follow the diagram to correctly determine the hand of the door.
ADA-Compliant Products
In compliance with the American National Standards Institute (ANSI A117.1) and the Americans with Disabilities Act (ADA), Schlage Lock Company offers a wide selection of locks designed for the needs of the physically challenged. This act is designed to provide protection for people with disabilities. The intent of ADA is that owners of certain types of buildings must remove barriers and provide people with disabilities with access equal to, or similar to, that available to the general public.
SCHLAGE S270PD CYLINDRICAL INTERCONNECTED LOCKS - SPECIFICATIONS
Handing: Not handed, except Flair design.
Door Thickness: 1 3/8" to 2" (35 mm-51 mm).
Backset:2 3/8" (60 mm) Standard, 2 3/4" (70 mm) and 5" (127 mm) available.
Fronts: Brass or bronze. 1 1/8" x 2 1/4" (29 mm x 57 mm) square corner, beveled, for 2 3/4" backset standard. For availability with specific backsets, see the catalog.
Lock Chassis: Steel, zinc dichromate plated for corrosion resistance.
Deadbolt: 1" (25 mm) throw with hardened steel roller, and 1" (25 mm) housings standard.
Latch Bolt: Brass, chrome plated, 1/2" (13 mm) throw, deadlocking.
Exposed Trim: Levers are zinc base, plated to match finish symbols. Roses, escutcheons, latch faceplates and strikes are wrought brass or bronze.
Strike: T-strike 1 1/8" x 2 3/4" (29 mm x 70 mm) x 1 1/8" (29 mm) lip to center with box standard. Optional strikes, lip lengths and ANSI strike box available.
Cylinder & Keys:
Commercial: 6-pin patented Everest 29 S123 keyway standard with two nickel silver keys per lock.
Residential: 6-pin C keyway, keyed 5-pin.
Keying Options: Interchangeable core and Primus high security cylinders. Master keying, grand master keying, and construction keying.
Warranty: Commercial: Three-year limited.
Federal: Meets FF-H-106C.
California State Reference Code: (Formerly Title 19, California State Fire Marshal Standard) All levers with returns comply; levers return to within 1/2˝ of door face.
UL / cUL:
All locks listed for A label single doors, 2' x 8'.
Letter F and UL symbol on latch front indicate listing.
UL437 Listed locking cylinder optional: specify Primus 20-500 Series cylinder.
ADA Compliant: Schlage Lock Company offers a wide selection of locks designed to meet the Americans With Disabilities Act.
SCHLAGE S270PD CYLINDRICAL INTERCONNECTED LOCKS - LEVER OPTIONS
Flair

Saturn

Neptune

Jupiter
LOCK FUNCTIONS
S210PD - Entrance, Single Locking

S251PD - Entrance, Double Locking

S270PD - Classroom Lock

S290PD - Single Dummy Trim

S280 - Storeroom Lock
Choose the right key system for your application.
Schlage Classic and Everest 29™ key systems are designed to give you the level of security you need for every application. With optional keyway exclusivity, multi- level key hierarchy and cylinders that fit into a wide variety of locks, Schlage key systems and cylinders give you total control of your key system and building security. The perfect mix of performance and flexibility.
Unlike many other brands of high security cylinders, Schlage can easily integrate its Primus XP and conventional cylinders into the same key system with no adverse effect on keying capacity. Primus XP keys will operate conventional cylinders, but conventional keys will not operate Primus XP cylinders. This means you can secure exterior doors and sensitive areas with Primus XP cylinders and use conventional cylinders on the remaining doors. This cuts the cost of the overall job, and security can be tailored to meet the exact needs of each door without sacrificing the convenience of having a single building master key.
The Classic keyway family
Schlage Classic keyways provide security with no restrictions on duplication. Our Classic keyways can be easily upgraded or mixed with Primus XP for enhanced protection.
Primus XP – high security.
The Primus XP keyway provides various levels of geographic exclusivity and requires authorization for duplication, ensuring better key control.
Patented protection until July 2024

Cylinders have a second set of pins for added security and pick resistance

UL 437 versions available for additional protection against drilling and physical attacks

Operates Primus XP and Classic (open) cylinders
The Everest 29™ patented keyway family
Everest 29 patented keyways provide a higher level of protection against unauthorized key duplication. Their patented design prevents non-authorized sources from manufacturing and distributing Everest 29 key blanks. Our Everest 29 key systems are suited for both new and existing keysystems, and give you the flexibility to expand and upgrade your key system as your needs change.
What is Everest 29 Primus XP?
The highest level of keyway security, Everest 29 Primus XP keyways are distributed under careful protection guidelines to protect the exclusivity of the individual side bit milling patterns. Choose Everest 29 Primus XP when the highest level of security and protection against unauthorized duplication is needed.
Geographic exclusivity on key blanks

Multiple patents protect against unauthorized key manufacture through July 2029

Pick- and rake-resistant design

Can be mixed and matched with non-Primus XP cylinders

All key sections and master keying available at all levels of security

Keys can be combinated using commonly available pin kits and key cutting equipment

Keys are quick to cut and cylinders are easy to pin

Thicker keys for added strength

Three-year product warranty and a limited life-time warranty against key breakage

Operates Everest 29 Primus, Everest Primus, and Everest restricted cylinders
Choose the Right Cylinder for Each Application.
Schlage cylinders are ideal for a wide range of commercial applications, including airports, hospitals, schools and universities, government and military buildings, offices and research laboratories. Choose from Classic Primus XP® or Everest® 29™ Primus XP high-security cylinders, Everest 29 patented open and restricted cylinders, or the industry-standard Classic cylinders to fulfill your security needs and the demands of your specific installation.
Conventional Cylinders
Schlage's high quality conventional cylinders provide the standard level of security and functionality for Schlage locks. The exclusive use of solid brass bar stock plugs and shells, phosphor bronze springs, nickel silver keys and bottom pins, ensures long life and ease of operation. 6-pin Everest 29 cylinders in S123 keyway with two patented keys are standard for stock. S145 is standard for new master key systems.
Standard Cylinders Available
6-pin conventional (standard)

Primus XP High Security

Primus XP UL437 Listed high security

Hotel cylinder

Temporary construction plug, plastic for functions
Available in 606 and 626 finish only. Everest S123 keyway standard.
Primus XP High Security Cylinders
Primus XP high security cylinders are available to add patented* key control and varying degrees of geographical exclusivity to most Schlage 6-pin key systems, whether using Everest 29 or Classic keyways. In addition to a conventional pin tumbler mechanism, Primus XP cylinders incorporate a patented* finger pin and sidebar design providing a "dual-locking" cylinder that is highly pick-proof. Resistance to drilling and other physical attack is optional by specifying 20-500 Series UL437 Listed cylinders. *Patented key protection applies to Everest 29 Primus XP and Classic Primus XP only.
Primus XP Lockout Cylinders
Available in rim and mortise cylinders only, lockout cylinders are designed for doors where it is frequently desirable to disable all keys from operating the lock temporarily. The special lockout key can be removed while the plug is turned to the 11 o'clock position, preventing all normal operating keys, including master keys, from fully entering the cylinder. Suggested applications for lockout cylinders include laboratories, dark rooms, clean rooms, and exterior doors to dormitories. Schlage will not master key lockout cylinders.
Interchangeable Core (IC) Cylinders (Full Size and Small Format)
For use where fast rekeying by non-technical personnel is desired, Schlage Primus XP and conventional interchangeable cores offer a great blend of security and convenience. The special control key for the system is all you need to remove the old core and install a new one. The core itself can be rekeyed with standard Schlage pin kits. Unlike some other brands, Schlage interchangeable cores can always be integrated into existing systems with no adverse effect on the key system. IC locks are especially well-suited to chain stores and restaurants where frequent employee turnover requires immediate rekeying by store management. Use IC cylinders to save time and energy when changing labor-intensive locks on exit devices and other door hardware.
Schlage interchangeable core (IC) locksets allow immediate rekeying at the door simply by using the special control key to replace the core in seconds. IC locksets are available in all designs except Flair. Full size interchangeable cores can be integrated into any 5 or 6-pin Schlage key with no adverse affects on keying capacity.
To order complete locks with full size cores, change suffix from PD to RD. Example: S251RD. To order locks less core, change suffix to JD. To order with full size
construction core, change suffix to TD.
Available in:
Full Size Interchangeable Cores
6-Pin conventional (standard)
Primus high security cylinder
IC Cylinders for Deadbolt (Top)
Conventional core
Primus core
Primus XP core
Housing less core
SCHLAGE S270PD CYLINDRICAL INTERCONNECTED LOCKS - ADDITIONAL INFORMATION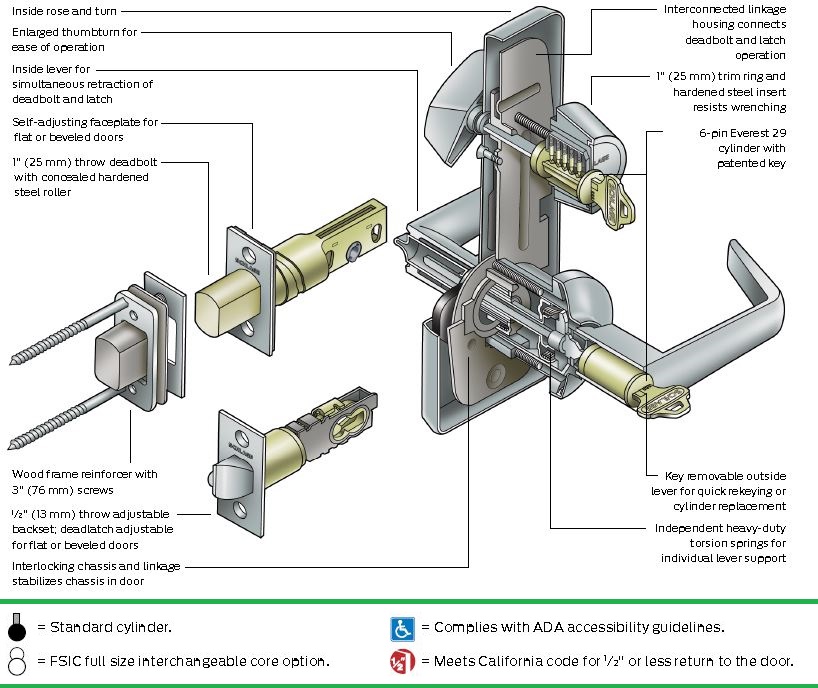 SCHLAGE S270PD CYLINDRICAL INTERCONNECTED LOCKS - DOWNLOADS
Schlage Interconnected Lock - Documentation Files