FREE SHIPPING...
PDQ 3100 (PDQ 3101 Functional Series) Grade 1 Light Commercial Door Closer Best Substitute for Sargent 1130 Door Closer
ARCHITECTURAL SPECIFICATIONS
The PDQ 3101 door closer is specially designed for use in ada and handicapped access areas. the 3101 doorcloser is adjustable from size 1 to size 4...this is less spring pressure than it's brother , the american eagle 3100closer also known as the pdq 3100 Series is a rack and pinion closer featuring a cast aluminum body, round style arm assembly and optional streamline cover. Hydraulic control is achieved through separate non-critical sweep, latch and backcheck valve adjustments. Door Closers are non-handed and suitable for regular, top jamb and parallel arm applications and come with fasteners for wood and metal doors and frames. Sex nuts and bolts are also furnished standard. PDQ Closers are available in adjustable versions for sizes 1-4 or 3-6. The 3100 is listed by U.L./U.L.C., complies with UL 10C and UBC 7-2 (1997) for positive pressure and is certified to ANSI A156.4 Grade 1.
The PDQ 3101 is a best substitute for Cal Royal 300, Dorma 3800 Door Closer, Dor-o-Matic SC60 DoorCloser, Hager 5300 Door-Closer, Stanley Commercial QDC300 Door Closer, LCN 1260 Closer, Norton 1600 Closer, Sargent 1130 Door Closer, Stanley D-1650 Closer and Yale 50 Door Closer.
Features:
Traditional door style door control for use in commercial door applications

Fasteners are provided to facilitate installation on wood, hollow metal and aluminum doors and frames

The closers are non-handed and tri-packed for maximum versatility to permit regular, top-jamb and parallel arm installations

The common 9-1/16" mounting hole pattern permits simple installation on new and retrofit applications.
BODY:

High strength aluminum alloy

ARM OPTIONS:

• PA – Parallel Arm

• HO – Hold Open

• DS/DSHO – Heavy Duty Parallel Arm Stop

• SCS/SCSHO – Heavy Duty Parallel Arm Cushion Stop

• TA/TAHO – Track Arm

ADJUSTMENT:

• Separate hydraulic backcheck standard

• Hydraulic controlled closing standard

SIZE:

• 3101 = Adjustable BF - 4

• 3100 = Adjustable 3 - 6

MOUNTING:

• Common 9-1/16" x 3/4" mounting hole pattern retrofits Yale® 50, Norton® 1600

• Tri-packed for regular, top jamb and parallel arm installations

• Includes sex nuts/bolts and screws for wood, metal doors frames

• Self drilling self tapping screws available

• Separate limiting stop may be required for high abuse applications

COVER:

• Streamline plastic cover optional

COLOR FINISHES:

• 689 – Aluminum, 695 – Duro Bronze, 696 – Gold

WARRANTY:

• Twenty-five (25) year Limited Warranty

CERTIFICATIONS COMPLIANCES:

• UL listed for labeled swinging fire doors rated up to and including 3 hours

• Certified to ANSI/BHMA A156.4 Grade 1

Meets requirements of the Buy American Act

• Complies with ADA (Americans with Disabilities Act) and ICC/ANSI 117.1 for Accessible and Usable Buildings
CROSS REFERENCE CHART
Manufacturer

Door Closer Series

PDQ

PDQ 7100 Door Closer

PDQ 5500 Door Closer

PDQ 5300 Closer

PDQ 5100 Doorcloser

PDQ 3100 Closer

Cal Royal

Cal Royal CR441

Cal Royal CR801

Cal Royal CR801S

Cal Royal 900

Cal Royal 300

Corbin/Russwin

Corbin/Russwin DC8000

Corbin/Russwin DC6200

Corbin/Russwin DC3200

N/A

N/A

Dorma

Dorma 8900

Dorma 8616FC

Dorma 8616

Dorma 7414/7436

Dorma 3800

Dor-O-Matic

Dor-O-Matic SC70

Dor-O-Matic SC850FC

Dor-O-Matic SC80

Dor-O-Matic SC60/SC61

Dor-O-Matic SC60

Hager

Hager 5100

Hager 5200

Hager 5200

N/A

Hager 5300 Less Cover

Stanley Commercial

Stanley Commercial QDC100

Stanley Commercial QDC200F

Stanley Commercial QDC200S

N/A

Stanley Commercial QDC300

LCN

LCN 4040

LCN 4010/4110

LCN 1460/1461

LCN 1370

LCN 1260

Norton

Norton 7500

Norton 8500

Norton 8300

Norton 160

Norton 1600

Sargent

Sargent 281

Sargent 350

Sargent 1430

Sargent 1130/1131

Sargent 1130

Stanley

Stanley D-4550

Stanley D-3550

N/A

N/A

Stanley D-1650

Yale

Yale 5800/4400

Yale 3500

Yale 3300

Yale 51

Yale 50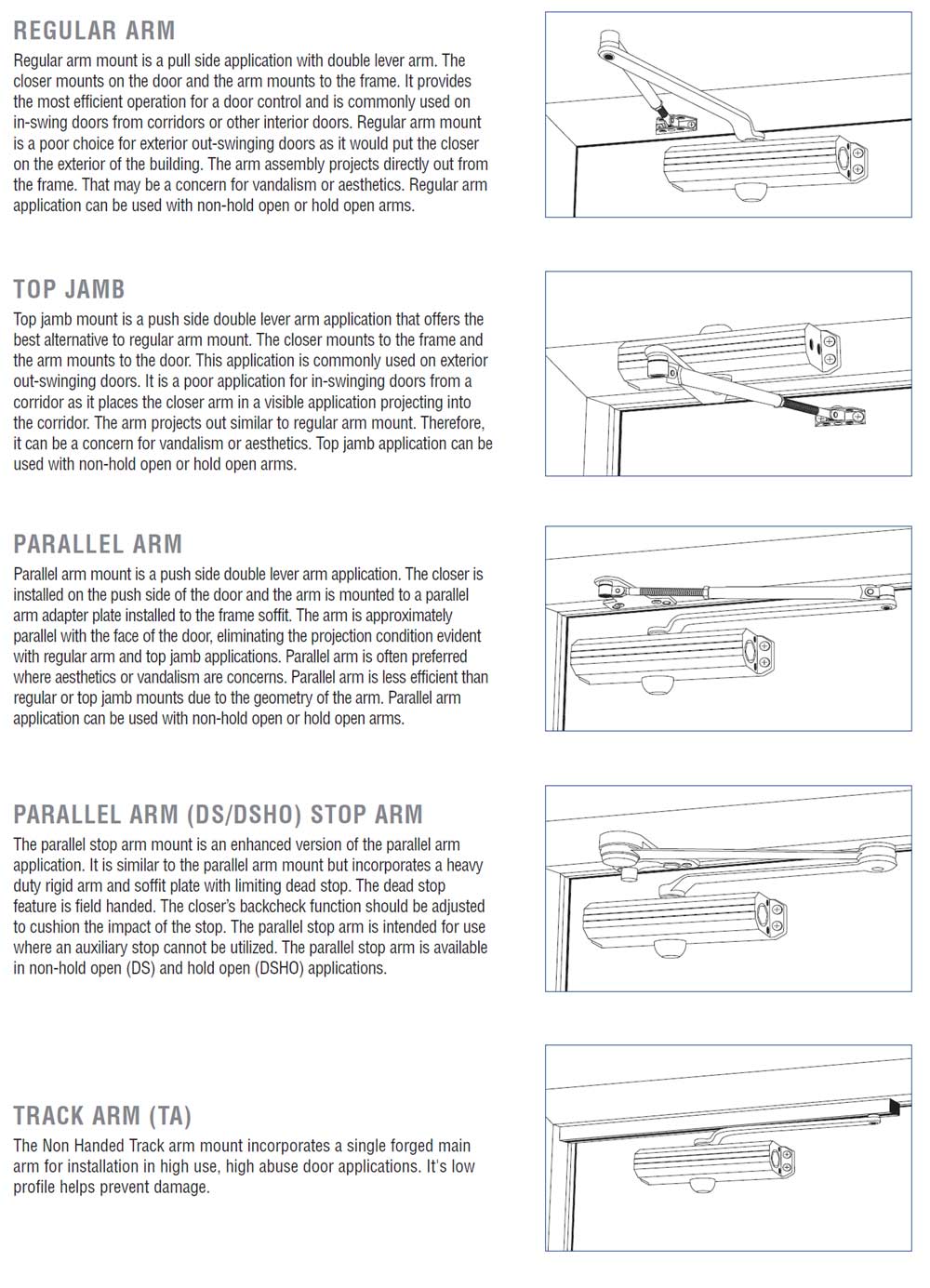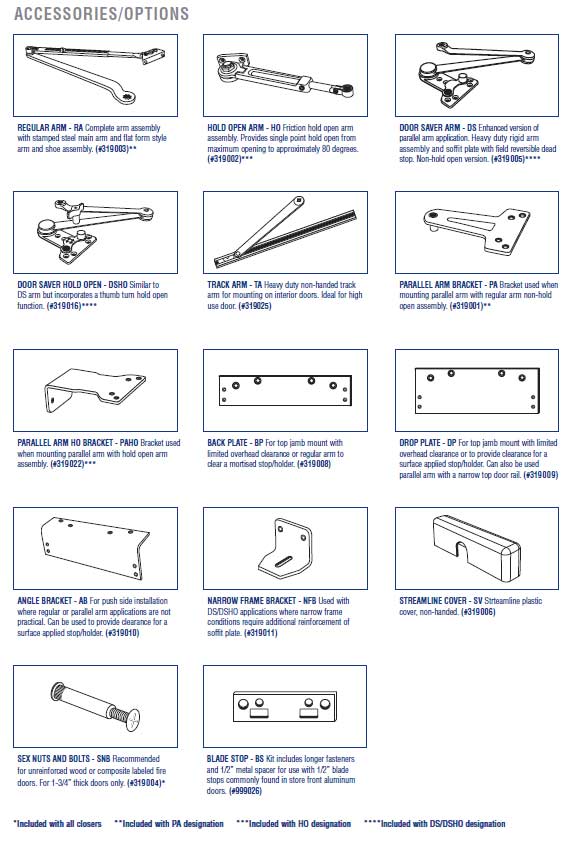 ARCHITECTURAL SPECIFICATION AND LISTED PRICE
Click here to download Architectural Spec Sheet and Listed Price