Note: Knob works with Adams Rite 4070, MS1850S, MS1950 series deadbolt
Alarm Lock Trilogy PDL1350 - Narrow Stile Proximity Lock - With Knob
Alarm Lock Trilogy PDL1350 - Narrow Stile Proximity Lock With Knob is a keypad/PC programmable narrow stile entry trim for Adams Rite® 1850, 1950, MS1850S and MS1950S series deadlocks.
The lock has a built in prox reader and an all-metal, vandal-resistant 12-button keypad. Users can gain access only with HID prox ID cards, prox keyfobs, prox tags or 3-6 digit pin code. In case of High Security Applications the lock can be configured to allow entry only when PIN code is entered and Prox ID card is scanned.
The Alarm Lock PDL1350 can store upto 2000 user codes and supports multilevel user hierarchy (master, manager, supervisor & basic users). It can also store 500 scheduled events and 40,000 event audit trail log. A real time clock date/timestamps each logged event. Activities that are logged include unauthorized code access events, program mode changes, locking/unlocking events, user entry logs etc.
This narrow stile lock is ideal for use in commercial places like Storefronts, Managed Properties, Restaurants, Retail, Airports, Showrooms, Campuses, Hospitals, Businesses and Malls.
Narrow Stile Access Locks

PDL1300 PIN/prox aluminum door retrofit outside trim

Aluminum door retrofit outside trim for Adams Rite 1850, 1950, 4710, 4070, 4730, 4900 Series and MS1850S and MS1950S Series latch locks.

Field-proven, familiar Trilogy® programming & electronics

PIN/Prox Models support 2000 users (see model info.)

40,000 event audit trail in 1300 Series models, provides door usage activity reports at wireless handheld printer, laptop or PC.

All-metal, vandal-resistant 12-button keypad supports 3-6 digit PIN codes, and multilevel user hierarchy (master, manager, supervisor, basic users)

Keypad or PC programmable (see model info.). Quickly and easily add or delete users and enter "passage mode", service codes, group lock-out & group-enable

HID Prox ID cards, keyfobs and prox tags supported in PDL-1300 Series models featuring built in Prox reader. (High security applications can require use of both PIN code plus Prox ID for access.)

Real time clock and PC programmable automatic lock/unlock scheduling for 500 events (1300 Series models).

Wide weatherproof operating range from -31 to 151ºF (-35 to 66C)
NARROW STILE TRILOGY® LOCK MODELS
PDL1300 Series supports 2000 PIN or Prox users and includes 40,000 event audit trail and 500 event schedule. Keypad or PC programmable. (Includes 2 Lithium 3V batteries) (See accessories below.)

KIT ALSO AVAILABLE: Complete electronic and mechanical access retrofit kit including Trilogy electronic narrow stile trim and mechanical Adams Rite 4900 Series dead latch lock (specify either 1 1/8" or 1 1/2" backset for mechanical lock required).
Wireless standalone locks: Long-life, battery- operated; Includes audible and visual low battery alert. (Uses standard off-the-shelf batteries.)
Non-handed; fully field-reversible
Key override; interchangeable cores supported (Corbin/Russwin, Yale, Schlage, Medeco.)
Mortise Cylinder, 1-1/4" supplied. (Supports 1-1/8, 1-1/4 and 1-3/8")
Compact styling 14-3/8"H x 1-5/8"D x 1-3/4"W
Backsets 31/32",1-1/8" and 1-1/2" ; Stile thickness 1-3/4"
Finishes US26D Satin Chrome, US10B Duronodic
Click here to see our Definitive List of Door Hardware Finishes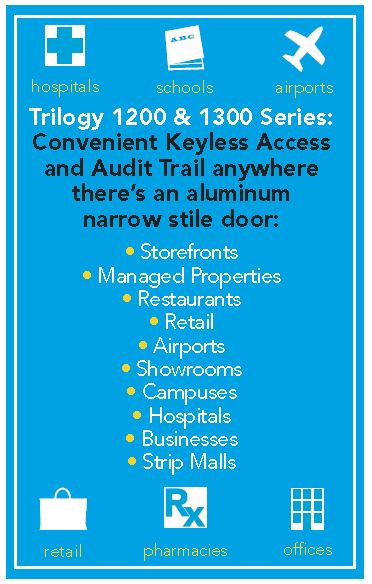 Alarm Lock Trilogy PDL1300 Series Documentation