Alarm Lock Trilogy PDL3575DB - ELECTRONIC PROXIMITY MORTISE LOCKS - Regal Curved Lever Deadbolt Function
The Alarm Lock PDL3575DB - ELECTRONIC PROXIMITY MORTISE LOCKS - Regal Curved Lever Deadbolt Function Alarm Lock Trilogy PDL3575DB is a weatherproof, all metal, 12 button, Grade 1 BHMA Certified lock. It is built for both indoor and outdoor applications and is suitable for use in places like hospitals, schools, airports, retail, pharmacies and offices.
The lock stores up to 2000 user codes (master, manager, supervisor & basic users), 40,000 event audit trail logs and 500 scheduled events and holiday schedules. Program and audit trail activities are stored in a non-volatile memory thus ensuring that data is not erased in case of power failure.
The Alarm Lock PDL3575DB is a field-proven, rugged keypad lock with ultra-vandal-proof proximity reader built in. Users are individually programmed to gain access only with HID prox cards, prox keyfobs, prox tags or 3-6 digit pin code for the highest level of vandal-resistance and dependability available.
The lock features a stainless steel deadbolt with 1" (2.55cm) projection, latchbolt with 3/4" (1.91cm) projection and deadlocking latch. It comes with a beautiful, elegantly designed Regal Curved Lever in Satin Chrome finish. Other finishes like Polished Brass, Antique Brass, Polished Chrome and Duronodic are available on request.
Buy the Alarm Lock PDL3575DB Electronic Proximity Mortise Lock at discounted prices from Locksandsafes.com.
2000 user codes (3-6 digits) and/or HID prox cards/fobs

Multilevel security - Master; manager; supervisor; basic users

Easy Tap & Add batch prox ID card enrollment mode allows many cards to be quickly added without PC –also– downloadable from PC or prox enroller tool

PC programming/reporting

Quick passage mode (without being in program mode)

Program data transferred to lock via AL-PCI2 or AL-DTMIII

5AA battery-pak operated; 75,000 cycles, typical

5 Architectural finishes

Weatherproof -31° to +151°F (-35° to +66°C)
ADVANCED FEATURES
Scheduled Events: Program to lock/unlock; disable/enable users; 4 built-in time schedules
Audit Trail with Time/Date Stamp: Provides a printable record of all electronic activity, including, Unlock/lock events, program mode changes, user entry, keypad lockout, remote release events, unauthorized code attempts, etc.
4 Programming levels

4 User groups

3 to 6 digit codes

One-time service code

Total user lockout code

First-Manager-In feature set

All-time panic exit function from within premises. From the inside of the door, a single turn of the lever simultaneously releases latchbolt and deadbolt (where applicable).

Tri-colored LED indicator indicates code acceptance or denial (green or red, respectively), or low battery condition (yellow).

Non-volatile memory of both programming and audit trail activity

Keypad lockout after numerous attempts to guess codes

Programmable Form C Relay functions for scheduled on manual control of CCTV, lighting, ambush function, alarm system, etc.

Standard ANSI 115.1 Mortise prep modified with added through-bolt holes.
Authorized digital code or prox technology ID (e.g HID card) enables outside lever to retract latchbolt, deadlocking latch and deadbolt (where applicable). Inside lever is always in passage mode and permits instant egress.
Operating Temperature: Weatherproof lock operating range from -20 to 151 degrees F (-29 to 66 degrees C)
Keypad: Weatherproof all-metal, 12-button programmable for multi-level access functions.
Programming: Locking modes, event schedules, group or individual user codes, master and management codes, passage and emergency or service code, lockout and remote override capability and allowable entry time (3, 10 or 15 seconds), etc. are programmable through the keypad, from the Data Transfer Module (AL-DTM) or using any PC running Alarm Lock DL-Windows Software.
Audit Trail: Locks' entry activity log can be polled to the Data Transfer Module (AL-DTM), any PC using DL-Windows Software, and/or can be on-site printed using the hand-held infrared printer (AL-IR1).
Power: 5AA alkaline batteries extended operations, furnished. Audible low battery alert, visual and audible entry indicators, 80,000 cycles, typical.
Door Thickness: Standard 13/4" (4.46cm) thickness. (Accepts 1 3/8" to 1 7/8" or 3.5 to 4.7cm). Call factory for thicker door requirements.
Backset: 23/4" (7.01 cm)
Door Prep: Standard ANSI 115.1 Mortise prep, modified with added through-bolt holes.
Cylinder: 1-3/8" (3.5cm) mortise cylinder supplied. 13/8" – 1 - 11/2" (3.5 - 3.82cm) mortise cylinders accepted. Deadbolt Models are supplied with cylinder with cloverleaf cam.
Deadbolt Models: Feature stainless steel deadbolt with 1" (2.55cm) projection, latchbolt with 3/4" (1.91cm) projection and deadlocking latch. Deadbolt may be projected from key cylinder from outside door or turnpiece from inside door.
Interchangeable Cores: Will accept interchangeable core mortise cylinders with compatible cams. Call us for details.
Trim: Regal curved lever handle.
Handing: Specify Right or Left hand when ordering. If reverse handing is required, lock is field reversible. See installation instructions for directions.
Strike: ASA strike supplied, matched to classroom or deadbolt function model & lock handing. Standard strike is 4-7/8" (12.43cm) and includes combination wood/metal screws.
Finishes: US26D Satin Chrome, US3 Polished Brass, US10B Duronodic
Click here to see our Definitive List of Door Hardware Finishes
Compliances: Steelcase lockbody meets BHMA specifications for Grade 1 locks. UL Listed to the 10C Positive Pressure Specification. Latchbolt is UL Listed, and 3-hour fire rated. FCC Certified. ADA compliant levers.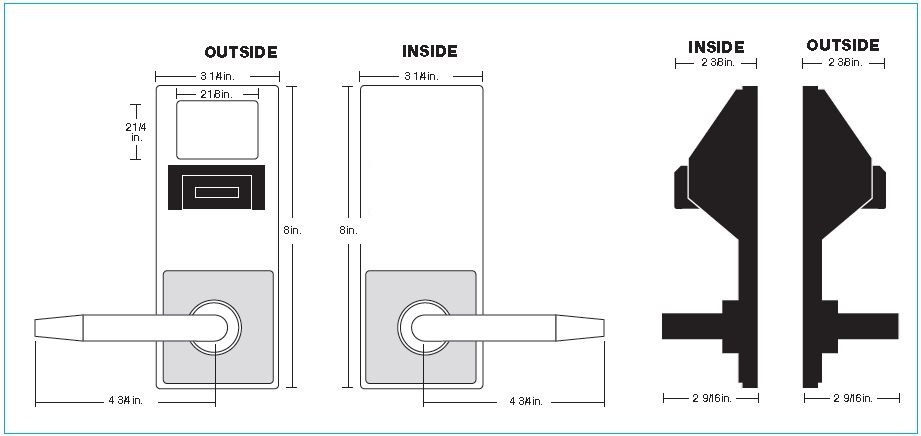 Alarm Lock Trilogy PDL3500 Series Documentation