Alarm Lock Trilogy PDL1325 - Narrow Stile Proximity Lock - With Thumbturn
Buy the Alarm Lock Trilogy PDL1325 Narrow Stile Proximity Lock With Thumbturn at discounted prices from Locksandsafes.com. The thumbturn model supports swing & hook bolt products. The lock fits on the narrow aluminium frame that surrounds the glass of a retail or commercial storefront door.
This lock is a weatherproof lock and operates perfectly in temperatures ranging from -31 to 151 degrees F (-35 to 66 degrees C). This makes it suitable for both indoor and outdoor applications. The lock is powered by 2 Lithium 3V batteries which are good for 65,000 cycles typical.
Users can gain through a HID prox ID cards, prox keyfobs, prox tags or 3-6 digit pin code. In case of High Security Applications the lock can be configured to allow entry only when both a PIN code is entered and Prox ID card is scanned. Easy Tap & Add batch Prox ID card enrollment mode allows many cards to be quickly added without the need of a PC.
This Alarm Lock PDL1325 lock can store upto 2000 user codes, 500 scheduled events and 40000 event logs. It is compatible with Alarm Lock Accessories like AL-DTMIII Data Transfer Module, AL-PCI2 Trilogy PC Software Kit, AL-PCI2-U interface cable with USB port, DL-Windows and AL-PRE: Prox Card Reader/Enroller. These accessories are useful for transferring data to and from from the locks to the PC including user credentials and audit trail logs.
The lock comes with a non handed, fully field reversible turnpiece and has a high quality Satin Chrome finish. Other finishes to choose from include Duronodic, Metallic Silver and Metallic Bronze which are available upon request.
All this and many other features makes this lock suitable for use in places like Storefronts, Managed Properties, Restaurants, Retail, Airports, Showrooms, Campuses, Hospitals, Businesses and Malls.
Narrow Stile Access Locks

PDL1300 PIN/prox aluminum door retrofit outside trim

Aluminum door retrofit outside trim for Adams Rite 1850, 1950, 4710, 4070, 4730, 4900 Series and MS1850S and MS1950S Series latch locks.

Field-proven, familiar Trilogy® programming & electronics

PIN/Prox Models support 2000 users (see model info.)

40,000 event audit trail in 1300 Series models, provides door usage activity reports at wireless handheld printer, laptop or PC.

All-metal, vandal-resistant 12-button keypad supports 3-6 digit PIN codes, and multilevel user hierarchy (master, manager, supervisor, basic users)

Keypad or PC programmable (see model info.). Quickly and easily add or delete users and enter "passage mode", service codes, group lock-out & group-enable

HID Prox ID cards, keyfobs and prox tags supported in PDL-1300 Series models featuring built in Prox reader. (High security applications can require use of both PIN code plus Prox ID for access.)

Real time clock and PC programmable automatic lock/unlock scheduling for 500 events (1300 Series models).

Wide weatherproof operating range from -31 to 151ºF (-35 to 66C)
NARROW STILE TRILOGY® LOCK MODELS
PDL1300 Series supports 2000 PIN or Prox users and includes 40,000 event audit trail and 500 event schedule. Keypad or PC programmable. (Includes 2 Lithium 3V batteries) (See accessories below.)

KIT ALSO AVAILABLE: Complete electronic and mechanical access retrofit kit including Trilogy electronic narrow stile trim and mechanical Adams Rite 4900 Series dead latch lock (specify either 1 1/8" or 1 1/2" backset for mechanical lock required).
Wireless standalone locks: Long-life, battery- operated; Includes audible and visual low battery alert. (Uses standard off-the-shelf batteries.)
Non-handed; fully field-reversible
Key override; interchangeable cores supported (Corbin/Russwin, Yale, Schlage, Medeco.)
Mortise Cylinder, 1-1/4" supplied. (Supports 1-1/8, 1-1/4 and 1-3/8")
Compact styling 14-3/8"H x 1-5/8"D x 1-3/4"W
Backsets 31/32",1-1/8" and 1-1/2" ; Stile thickness 1-3/4"
Four attractive standard finishes US26D Satin Chrome, US10B Duronodic, MS Metallic Silver and MB Metallic Bronze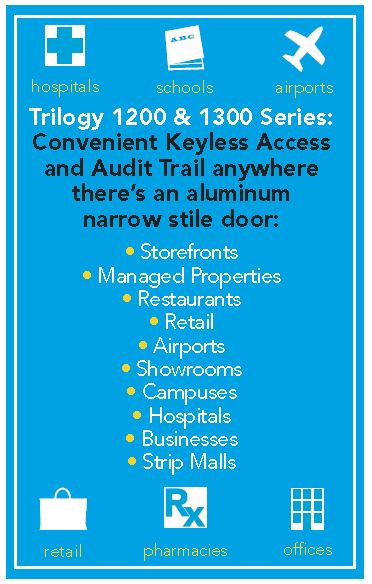 Alarm Lock Trilogy PDL1300 Series Documentation